His life
<![if !supportEmptyParas]> <![endif]>
<![if !vml]>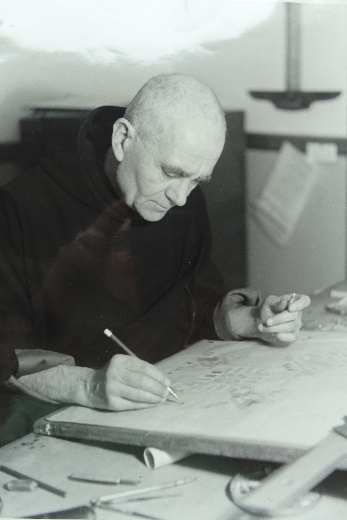 <![endif]>Paul Louis Denis Bellot is born in Paris on 7 June 1876 in a family of architects.
He also studies architecture and in 1900 he graduates at the Paris Ecole des Beaux Arts. His graduation-work  "Maison de famille et cercle Français à Madrid" is exhibited at the Paris Salon of 1901. Bellot takes a trip to Spain, to study there. He is subscribed as an architect on 28 July 1901 at  "Société des architectes diplômés par le gouvernement". His first work as an architect was the design for the new church of Saint Germain in Flers, France, together with Paul Hulot. Although the plans were well received, the church was built according to plans of an other architect. In 1902 Paul Bellot decides to be a monk and gives up his daily architectural work. He enters the community of the Benedictines of Solesmes, at that time in exile in England.
<![if !supportEmptyParas]> <![endif]>
Forced by the anti-clerical laws of Emile Combes the monks fled to other countries around France. The community of Solesmes went to the British Isle of Wight in 1901. Paul Bellot became monk there and was asked by his community to draw plans for the new abbey. Building Quarr abbey started in 1906. At the same time Bellot made an abbey for the Benedictine monks in Oosterhout, Holland. Bellot builds these abbeys in brick. Paul Bellot becomes priest on 10 June 1911 in Quarr Abbey, in the church which was designed by himself....
<![if !supportEmptyParas]> <![endif]>
This building-monk becomes more and more attention, and he is given permission to start his own architecture-office in St. Pauls abbey in Oosterhout, Holland. In 1922 he hires a young Dutch architect to help him with his work, Hendrik van de Leur, and together they build several churches and schools in Holland. This Van de Leur would be his associate (compagnon) in 1928. Bellots early work is written down in a book, translated in French, Dutch and English "A modern architecturial work by Dom Paul Bellot O.S.B." (1927) with introduction from sculpturist Henri Charlier and text from the architect Maurice Storez and Bellot himself. It's ment to be an explanation of the architectural ideas of Bellot.
<![if !supportEmptyParas]> <![endif]>
In 1920 the anti-clerical laws are abolished in France and the Benedictine monks can return to France. The monks of Quarr Abbey leave to Solesmes, leaving a new community of English and French monks at Quarr, and the same happens in Oosterhout, were the French monks return to their "own" St. Paul abbey at Wisques. Dom Bellot leaves Oosterhout in 1928, and starts a new architecture-office in the abbey at Wisques. Hendrik van de Leur stays in Holland and continues working there in Bellots style. Dom Bellot becomes a member of L'Arche, a group of architects and artists who's goal it is to make a new kind of religious art: L'Arche rejects copying of old styles (such as neo-gothic and neo-Romanesque styles). The Belgian architect Maurice Storez was the leading architect.
<![if !vml]>

<![endif]>
In 1932 Dom Bellot received a medal from the Société Centrale des Architectes Français for his work. He is introduced to the young Canadian architect Dufresne by Maurice Storez. An other Canadian architect, Edgar Courchesne, became an internship at Bellot's office. Father Henri-Paul Bergeron of the Oratory Saint Joseph at Montreal, a personal friend of Courchesne and Dufresne, invites Bellot to Canada for several lectures about modern religious art (1934). These lectures were published in 1949 (Propos d'un bâtisseur du Bon Dieu). In Canada Bellot is asked to complete the Oratorium St. Joseph and to build a new abbey for the Benedictine community at St. Benoît-du-Lac. Trapped by the second world war Dom Bellot is forced to stay in Canada from September 1939 until his death on 5 July 1944. He is buried on the cemetery of the abbey St. Benoît-du-Lac. Dufresne and a few other architects continued working in the style of Bellot and today this style is known in Canada as "Belotism".
<![if !supportEmptyParas]> <![endif]>
Most of his archive is preserved and can be found at the A.N.M.T. in Roubaix, France