<![if !vml]>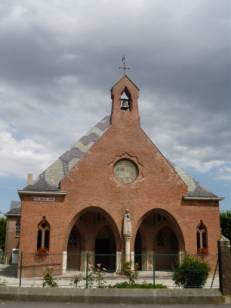 <![endif]>Church of Notre Dame des Trévois, Troyes
One of the most beautiful churches of Bellot is Notre Dame des Trévois: A very simple little church to see from the outside, but a beautiful church from the inside! Build from 1931 until 1934. Rectangular floorplan, a five sided sanctuary and two little transepts. At the front is the statue of Mary, made by Henri Charlier. The front has two arches and a little bell-tower. Originally there would be a bigger tower, which was never build. The porch is very interesting with parabolic arches stretching across from one side to another. ,
<![if !vml]><![endif]>

<![if !vml]><![endif]>

<![if !vml]><![endif]>

<![if !vml]><![endif]>

<![if !vml]><![endif]>

porch

<![if !vml]><![endif]>
The roof of the nave is decorated by slate in different colours. At the outside wall is a belt made of slight light colored stone. The sanctuary is five sided, with only two round windows at each side.
<![if !vml]>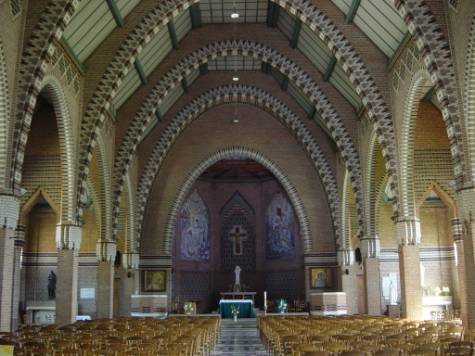 <![endif]>
<![if !vml]>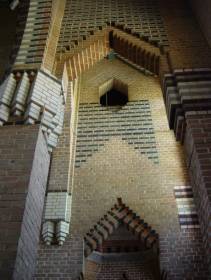 <![endif]>
The interior is beautiful made of coloured brick. The parabolic arches have a decoration of coloured bricks and many walls are decorated by simply using different colours bricklaying. Bellot's nickname "poet of brick" can be understood now…
In the sanctuary a huge white cross is surrounded by decorated bricks, and mosaic is placed in the side walls. The base of the arches seem to rest on blocks of natural stone, but these columns are also made of brick.
Just like the chapel in Neuvy-sur-Barangeon this church has two pulpits. The communion rail still stands. The nave has an ceiling of wood, coloured grey-blue. The sanctuary has a ceiling made of wood, painted blue.
The similarity with the church at Leerdam (1929) is stunning. Together with the little church at Hardecourt-aux-bois this church is the most "Dutch" church of Bellot in France.
<![if !vml]><![endif]>

<![if !vml]><![endif]>

<![if !vml]><![endif]>

<![if !vml]><![endif]>

ceiling of the baptistery

<![if !vml]><![endif]>
<![if !vml]>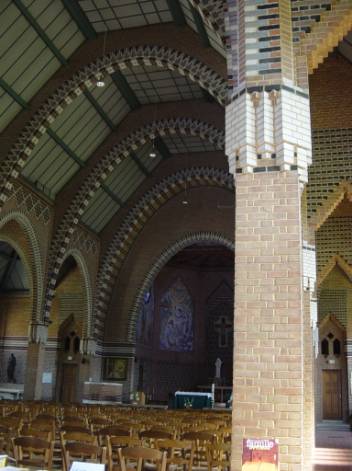 <![endif]>Very beautiful is the ceiling of the baptistery, every layer of bricks crawls toward the middle, like in a hollow pyramid.
The church has stained-glass windows with concrete bars.
photo's: A.W.A.Lukassen and A.A. Lukassen, July 2009