<![if !vml]>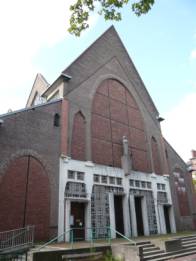 <![endif]>Church of Notre Dame de la Paix, Suresnes
In Suresnes, a neighbourhood of Paris, stands the never completed church of Notre Dame de la Paix (1931-1934). After several years of planning and drawing (at least 5 versions) there is a design for a tall city-church with tower, nave, sanctuary, chapel of the virgin Mary and a crypt. The construction of the crypt, chapel and sanctuary were soon postponed due to lack of funds. Only the floor of the sanctuary and the sacristy at ground-level were constructed together with the nave. For the front Bellot made three versions: with tower (600.000 francs, without tower but with completed front (350.000 francs) and a version without front, just a filled arch as front wall (200.000 francs).
The last mentioned option was chosen, after all, it was crisis in the 1930's. And that is why this church is only a nave, without front and without sanctuary! The bells are placed behind the church, in the space left for the sanctuary... After Ďcompletioní in 1934 Dom Bellot complained the church looked more or less an aircraft hangar..
<![if !vml]><![endif]>

<![if !vml]><![endif]>

window of the clerestory in the nave

left: entrance to never build baptistery...

<![if !vml]><![endif]>

left: frontside, temporary closed with brick.

<![if !vml]><![endif]>

Rear side (sanctuary) with bells on the floor..
The frontside has no organ loft nor entrance. That part has never been built, one walks directly from the street into the church. The gaps in the wall, where the doors to the portal should be, are filled with stained glass windows and a smaller type door. At the rear end the sanctuary is placed in front of the brick wall, closing the nave. The sacristy has been completed, the sanctuary not.
<![if !vml]>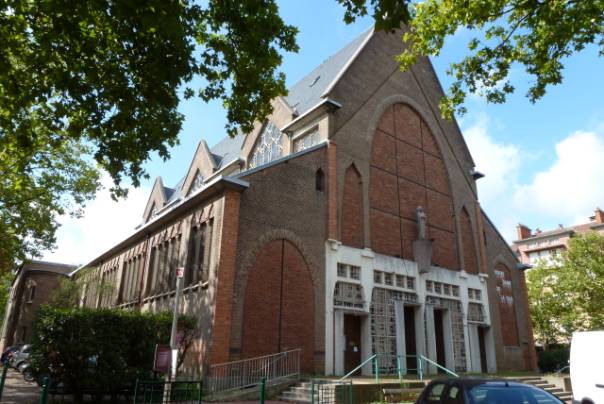 <![endif]>
<![if !vml]>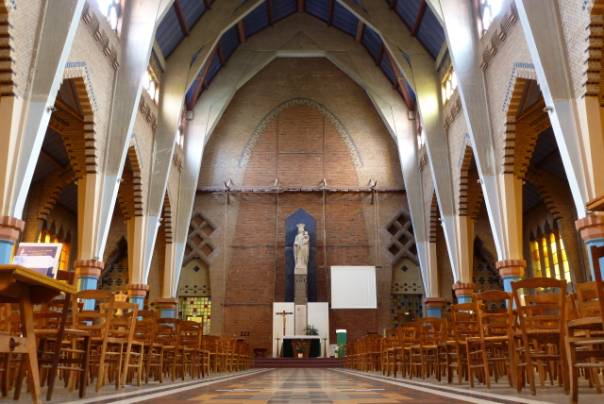 <![endif]>
On the inside there is enough to see: Multi angled concrete arches rise high up. On the bottom coloured mosaic, a part painted blue, the upper part white.†

The walls between the arches have a brick arch from column to column and from the column to the outer wall there is another brick arch. These arches are not parabolic but angled.

The coloured bricks are used to give the masonry some accent, for example in the arches and at the upper parts of the windows.

<![if !vml]><![endif]>
The church is light, unusual light for a Bellot-church. It has windows above in its nave, just like the church in Porto. Most churches of Bellot do not have these windows. The masonry has some coloured accents and in spite of the church isnít half it used to be, itís still an impressive sight.
<![if !vml]><![endif]>

<![if !vml]><![endif]>

<![if !vml]><![endif]>

<![if !vml]><![endif]>

<![if !vml]><![endif]>
Theoretical this church can be simply being completed according to the original plans of Bellot.
But plans cost no money, so it will be a wish probably forever.....
photos: a.w.a.lukassen and a.a. lukassen, August 2011
<![if !vml]>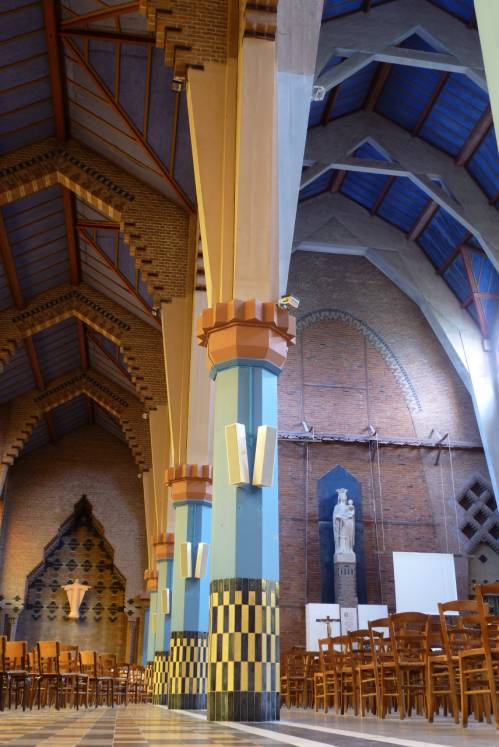 <![endif]>
††