<![if !vml]>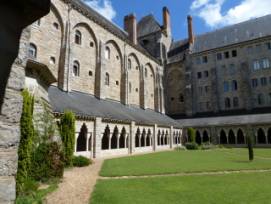 <![endif]>Abbaye St. Pierre, Solesmes
Father Bellot joined the Benedictines of Solesmes abbey in1903. The monks were at that time in exile in England, since September 20, 1901. In England Bellot designed for his congregation a new abbey: Quarr abbe at the isle of Wight. When the Solesmes community returned to France in 1922 a part of the monks would stay at Quarr and continue Benedictine life there. Father Bellot would not return to Solesmes, he lived at first at Oosterhout at the St. Paulus abbey, and from 1929 at Wisques, near St. Omer. 
The abbey of Solesmes, one of the most important abbey's of Europe, had to be enlarged in 1935 with a library, two cloisters, a room for the Abbot and a laundry-room. The Abbot remembered the monk-architect who made him at Quarr a new abbey and asked Bellot to design for Solesmes this enlargement. The enlargement is according to the existing building made of natural stone, the pillars are made of concrete. There is no use of colour in this cloister.
<![if !vml]><![endif]>

<![if !vml]><![endif]>

<![if !vml]><![endif]>

<![if !vml]><![endif]>

<![if !vml]><![endif]>

<![if !vml]><![endif]>

<![if !vml]><![endif]>

<![if !vml]><![endif]>

<![if !vml]><![endif]>

<![if !vml]><![endif]>
The cloister is the connection to the medieval church. In the corner is an annexe, used by father Abbot to wash the hands of the guests before dinner.
The octagonal room for the Abbot is at the first floor and is supported by a concrete pillar. The use of coloured tiles at the floor at the entrance of the abbey, near the shop, suggests Bellot has also designed this part of the abbey. 
<![if !vml]>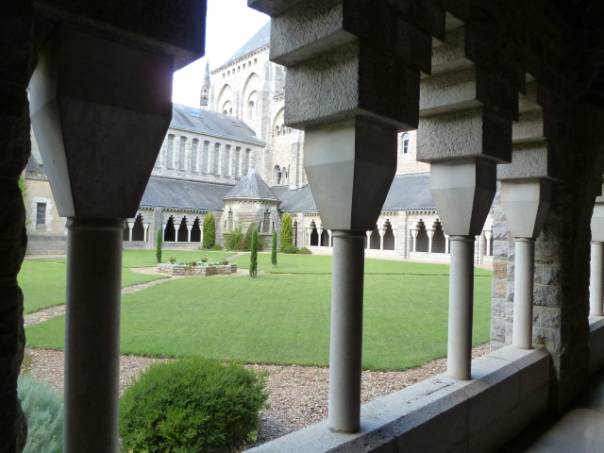 <![endif]>
Photo's: A.W.A. Lukassen and A.A. Lukassen, August 2013