<![if !vml]>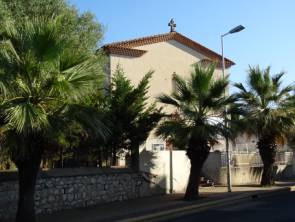 <![endif]>Petite église Sainte Bernadette, Montpellier
In 1937 Dom Bellot is working on a design for a large church for the parish Sainte Bernadette in Montpellier. It would be a large church with a circular ground plan, with a small extension on four sides. The church would be a nice eye-catcher on the corner of a crossroads. In anticipation of the construction of this big church, a small chapel and the presbytery were built. The large church of Bellot has never been built, the chapel and the presbytery have been left standing and in the 1960s a large church was constructed by another architect.
The chapel is very simple on the outside. Four characteristic windows in the longitudinal facades, a rather simple façade with the door in the usual brick frame, crowned with a simple window and above it a niche for a statue. The church is plastered. The roof has a low angle of inclination usual in southern France. The edge of the roof is accentuated by a pattern in roof tiles that has been bricked into the wall.
This decoration in the roof frame is also present at the presbytery, which is built perpendicular to the chapel in a similar style.
<![if !vml]><![endif]>

<![if !vml]><![endif]>

<![if !vml]><![endif]>

<![if !vml]><![endif]>

<![if !vml]><![endif]>

<![if !vml]><![endif]>

<![if !vml]><![endif]>

<![if !vml]><![endif]>
As is often the case with Bellot buildings, beauty can be found at the inside. The hall church has no pillars, the roof rests on wooden beams. The ceiling has a geometric painting. The church is plastered. Some parts of the masonry, such as the triumphal arch at the sanctuary and the niches above the doors, are in brick, which accentuates. The colours of the ceiling are reflected in a panelling on the wall. A baptistery is not present. The original altar has been replaced, the original tabernacle from the 1930s rests on a smaller altar. The windows have a pattern of stained glass and together with the original tiled floor in distinctive pattern gives the whole an solemnly ambiance. A door in the west façade gives access to the square in front of the presbytery, the place where the large church of Dom Bellot would have been built. Instead, that is now the parking lot for the parish. The chapel is still in use by the student parish Sainte Bernadette of Montpellier.
<![if !vml]><![endif]>

<![if !vml]><![endif]>

<![if !vml]><![endif]>

<![if !vml]><![endif]>

<![if !vml]><![endif]>

<![if !vml]><![endif]>

<![if !vml]><![endif]>

<![if !vml]><![endif]>

<![if !vml]><![endif]>
<![if !vml]>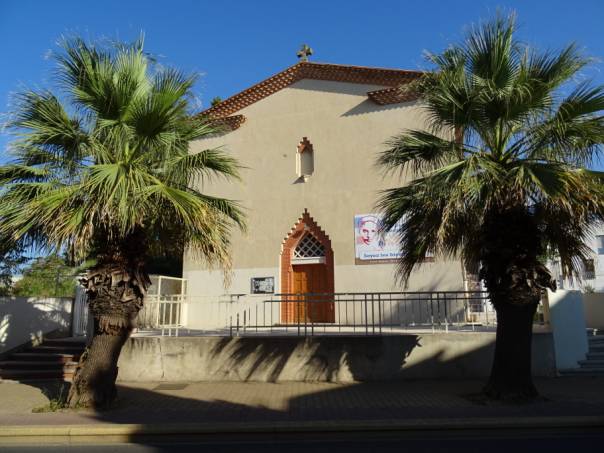 <![endif]>
Photo's: A.W.A. Lukassen and A.A. Lukassen, July 2018