<![if !vml]>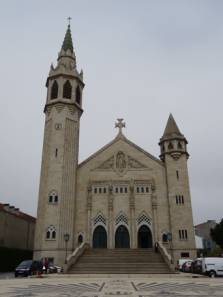 <![endif]>Igreja Senhora da Conceição, Porto
The only church of Dom Bellot in Portugal is the Senhora da Conceição in Porto (1938-1947). 50 meters long, 20 meters wide, a supporting skeleton of concrete, the facade of blocks of granite. Below the entire length of this church is a crypt, accessible through doors in the side wall and from the church itself. The tall tower is octagonal in the substructure and shows similarities with an earlier design by Bellot's pupil Hendrik van de Leur (St. Franciscus Church, Bolsward, 1933).
At the front is a wide staircase that leads to the three main doors. These three doors are flanked by four pillars, on which statues of Portuguese saints Anthony of Padua, John de Deo, Nuno Álvares Pereira and John de Britto are placed at a height of about 6 meters. At the very top, a half-plastic has been incorporated into the facade. The foundation stone was laid on December 18, 1938. The façade has been altered, compared to Bellot's design drawings from 1938. This change mainly concerns the crowning of the octagonal tower and was done under the responsibility of the Portuguese architect Rogério de Azevedo.
<![if !vml]><![endif]>

<![if !vml]><![endif]>

<![if !vml]><![endif]>

<![if !vml]><![endif]>

<![if !vml]><![endif]>

<![if !vml]><![endif]>

<![if !vml]><![endif]>
<![if !vml]><![endif]>

Because the tower is built on one of the hills in Porto, the view over the city is breathtaking and the tower can therefore be climbed.

A concrete spiral staircase, identical in design to the stairwell of the Saint Benoit-du-Lac abbey in Canada, leads to the top of the tower, where a carrilon and a historic timepiece can be viewed along the way.

<![if !vml]><![endif]>

<![if !vml]><![endif]>
The interior of this large parish church unmistakably looks like a"Bellot" church.
The design of the arches is identical to the original plan from 1938. In the implementation, however, the plan to make use of brick has given way to concrete and pillars covered with marble, at the insistence of the local welfare committee. The Portuguese architect Rogério de Azevedo has translated Dom Bellot's plans into the wishes of the welfare committee, together with architect Joseph Philippe (Dom Bellot employee until World War II). The church finally came into use on December 8, 1947.
<![if !vml]><![endif]>

Just like in Suresnes, this church has a light beam over the entire length of the nave.

The tracery filters the light.

The openings between the pillar and the outer wall are tapered in the side paths,

to end up in a twill arch.

The outer wall recedes between each pillar to give place to a side altar or devotion chapel.

<![if !vml]><![endif]>

<![if !vml]><![endif]>

<![if !vml]><![endif]>

The choir is under the same roof as the nave, and is visually separated from the nave by a lower triumphal arch.

An inner wall of concrete meshwork narrows the choir in relation to the church hall.

The high altar rises high, just like in Comines, and is such a real eye catcher.

<![if !vml]><![endif]>

<![if !vml]><![endif]>

<![if !vml]><![endif]>

Part of the roof construction

<![if !vml]><![endif]>

<![if !vml]><![endif]>

<![if !vml]><![endif]>

<![if !vml]><![endif]>

<![if !vml]><![endif]>
<![if !vml]>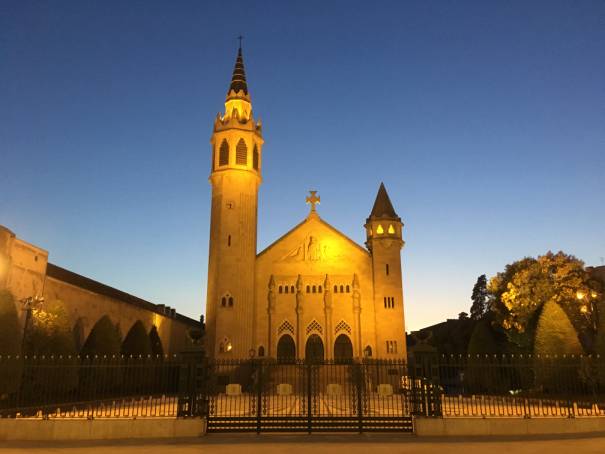 <![endif]>
Photo's

: A.A. Lukassen

and

A.W.A.

Lukassen,July

2019