Church of OLV Onbevlekt Ontvangen, Waalwijk
<![if !vml]>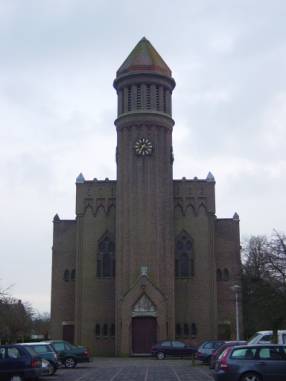 <![endif]>
To get more projects in the Netherlands Dom Bellot cooperates with Dutch architects at his first buildings. He is new here after all, and together with Pierre Cuypers jr. (grandson of the famous P.J.H. Cuypers, "Rijksmuseum Amsterdam") they built the church of Onze Lieve Vrouwe Onbevlekt Ontvangen. (Dutch for Imaculée Conception).
On some aspects this church is different from what we know of Bellot: The church is only three parts in length, Bellot uses often more parts, and the parabolic arch is also not available in this building... Here we see a half-circle arch, like in the chapel for the Augustinians in Eindhoven, also in collaboration with this Cuypers. The sanctuary is constructed by Bellot: twelve sides, and it is said that this sanctuary is based on the plans for the never build church of the St. Pauls abbey at Oosterhout.
<![if !vml]>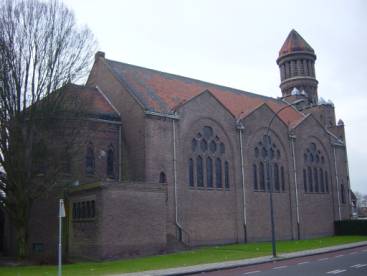 <![endif]>
The pulpit is again made of brick. On the frontside of the church stands a sixteen cornered tower, in front of a mediaeval looking wall. This tower is similar to the one of the church of the Sacred Hart at Eindhoven, only smaller.
<![if !vml]>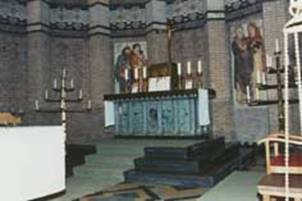 <![endif]>
In the original plans the sanctuary would have more use of coloured brick. To lower the costs only a few colours of brick are used.
The church looks very huge, in spite of its small size. The stained-glass windows of the nave are designed by Bellot himself.
<![if !vml]>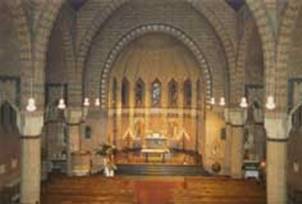 <![endif]>
This church is nowadays closed for catholic services. In 2007 it was rebuilt into apartments.
photo's: a.w.a.lukassen