<![if !vml]>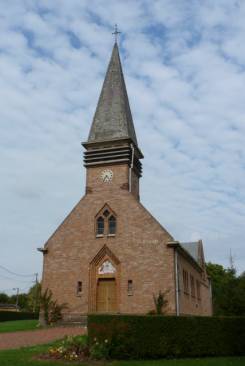 <![endif]>Church of St. Martin,
Hardecourt-aux-bois
After the battle of the Somme, in world war one, the little village of Hardecourt-aux-bois was devastated. Piece by piece they rebuilt the town and a new church was added by Dom Bellot in 1929 after plans to rebuild the original church were abandoned. In the original plans the bell-tower would be at the left front corner of the church, but to lower the costs the tower is placed in the middle.
Above the door of the church is a painting of St. Martinus, the patron saint of this church, covering a original fresco on the wall. The door is nowadays made of plastic.
The village has about 100 inhabitants (2010) and is used once or twice a year.
<![if !vml]><![endif]>

<![if !vml]><![endif]>

<![if !vml]><![endif]>

detail of the facade

<![if !vml]><![endif]>

<![if !vml]><![endif]>
Because of the small size of the church there are no pillars to support the brick arches. The arches reach from the one wall to the opposite side. In order to enhance the strength of the outside-walls it is enforced from the inside, as shown on the picture on the left. It's a great advantage to place the supporting walls on the inside because bad weather does not attack the bricks this way. It's much more long-lasting. The ceiling is made of wood. The church is not very colourful: only two colours of red brick are used. On the floor are coloured tiles in different patterns.
<![if !vml]><![endif]>

<![if !vml]><![endif]>

Sanctuary with masonry-arch

<![if !vml]><![endif]>

interior towards tower

<![if !vml]><![endif]>
<![if !vml]>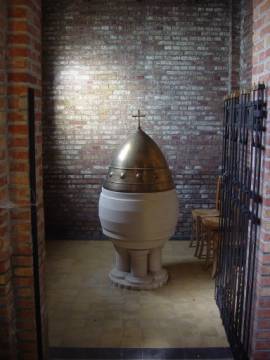 <![endif]>
Like the church at Leerdam this church has a beautiful brick arch, here at the side wall of the sanctuary. The sanctuary is build inside the church, not visible from the outside. At the side of the sanctuary are the only pillars of this church. The arch divides the room in a nave and the sanctuary. In order to have enough light at the altar Bellot made large windows at the side, in a little transept.
The church has no pulpit. The original communion rails are still present.
The baptistery of this church has a font made of sandstone, intentionally planned for the church of Comines, which is build in the same period by the same architect. By unknown reasons it is placed in this church instead of the St. Chrysole, about 100 kilometres to the north...
In the back of the church large marble plates with names of soldiers who died in the war of 1914-1918.
For a scale-model of this church, click here.
photo's: A.W.A. Lukassen and A.A. Lukassen, July 2010, August 2011
<![if !vml]>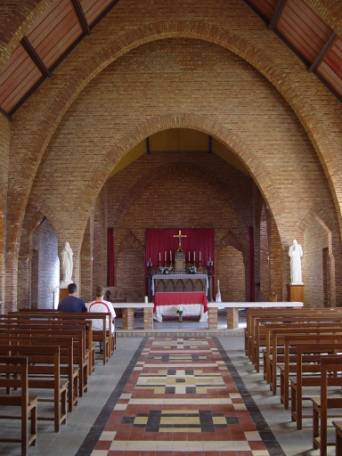 <![endif]>