<![if !vml]>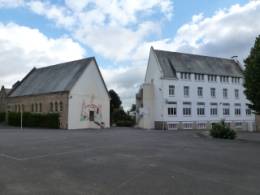 <![endif]>St. Don Bosco, Coat-an-Doc'h (Guingamp)
In the 1930s, the son of Mademoiselle Marguerite Marie de Saint-Jouan went to boarding school in Belgium, where he received education from the Salesian Fathers of Don Bosco, a 'teaching congregation' within the Roman Catholic Church. Later the family decided to make available to the Salesians of Don Bosco to start a new school in Bretagne and donated their estate in Coat-an-Doc'h. In 1934 Dom Bellot is asked to design to the existing castle a new school. On the west side of the castle, Bellot designs two parts with classrooms, dormitories on the top floor and a refectory (dining hall) on the ground floor. In the middle of the two parts, the chapel is planned, with a large staircase in front of it.
The design of Bellot has been partially implemented. The east wing was built in 1935, next to the castle. The chapel in the middle followed in 1939. Pending the stairwell and the west wing of the chapel was a temporary facade. The second phase, the part at the left side of the chapel, is never executed, the outbreak of the Second World War will undoubtedly have been the reason for this.
The temporary façade is now the remaining façade, painted in the 1960s by the art teacher of the boarding school.
Behind the part designed by Bellot more classrooms were built in the 1960s.
<![if !vml]><![endif]>

The outside walls of the chapel are made

of natural stone and concrete.

The façade was intended as a temporary closure and is therefore of less solid quality and artistic execution.

The small door in the front of the chapel stands, for the same reason,

in no relation to the other entrances.

<![if !vml]><![endif]>

<![if !vml]><![endif]>

<![if !vml]><![endif]>

<![if !vml]><![endif]>

<![if !vml]><![endif]>
In the interior the use of concrete for the construction is visible. The chapel doesn't have pillars at the sides, the arch is coming out of the sidewall. Only the sanctuary is accentuated by a parabolic arch. Behind the mosaïc in the wall is the sacristy. The stools, the tiles on the floor and the windows are all in the characteristic style of Bellot. Besides the sanctuary is the resting place of mrs. Marguerite Marie de Saint-Jouan, owner of the castle, and the resting place of the first principle of the school: Father René Pastol, of the order of Don Bosco.
<![if !vml]><![endif]>

<![if !vml]><![endif]>

<![if !vml]><![endif]>

<![if !vml]><![endif]>

<![if !vml]><![endif]>

<![if !vml]><![endif]>

<![if !vml]><![endif]>

<![if !vml]><![endif]>
The congregation of Don Bosco doesn't use the chapel often nowadays. The complex isn't a school anymore. It is used to give youth from the city a nice holiday. The remaining fathers live in a new house, north of the chapel.
<![if !vml]><![endif]>

<![if !vml]><![endif]>

<![if !vml]><![endif]>
Photo's: A.W.A. Lukassen and A.A. Lukassen, August 2013