<![if !vml]>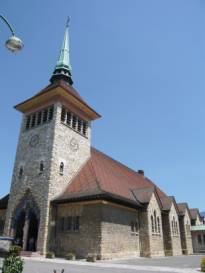 <![endif]>Basilica St. Joseph des Fins, Annecy
In Annecy, at the base of the Alps, Bellot designed in 1937-1939 the church of St. Joseph des Fins.
Natural stone at the outside, concrete arches at the inside. The tower is in the middle at the front of the church and contains 4 bells and the organ.
The nave has at each side four gables and these gables continue in the outside of the ambulatory. The roof is covered with slate in mosaic pattern.
<![if !vml]><![endif]>

<![if !vml]><![endif]>

<![if !vml]><![endif]>

<![if !vml]><![endif]>

interior to the east
<![if !vml]>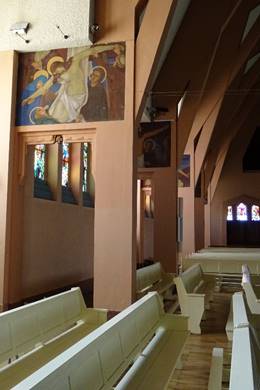 <![endif]>
The church is remarkably big: 54 meters long, 24 meters wide. The top of the nave is 15,40 meters. The ports in the walkways at the outer sides of the nave are covered by a straight lintel. The sanctuary has a ceiling of concrete and the arch is covered with a great fresco about the life of saint Joseph. Around the sanctuary is an ambulatory with 5 chapels. The ceiling of the sanctuary rests on small pillars made of armed concrete.
Because of Bellot leaving to Canada in 1939 architect Joseph Philippe started the construction of the church in 1939. Philippe was a student of Bellot at Wisques abbey. He was not able to continue the works because he was called for military service to defend France in the second world war. Architect Francois Bérenger, another Bellot student, would finish the church in 1942.
<![if !vml]><![endif]>

baptistery

<![if !vml]><![endif]>

ceiling of the sanctuary

<![if !vml]><![endif]>

ambulatory

<![if !vml]><![endif]>

nave, north-side
<![if !vml]>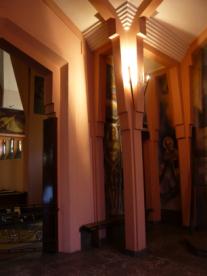 <![endif]>The altar an the stained glass windows are made by Henri Charlier, the fresco on the arch is made in 1942 by Rodolphe Wimer. Several mosaic works made by Girod & Basso.
Next to the tower are two chapels: to the north is the baptistery and to the south is a chapel dedicated to st. Joseph.
The organ was originally build for the cathedral of Algiers by Sthier from the Elzas. It was installed in this church in 1963.
The church was already in use since 1942, yet this church is consecrated on 1 May 1962.
July 1964 pope Paul VI declared the church basilica minor.
The sacristy and the parsonage were designed by M. Fluckiger in a similar style.
<![if !vml]>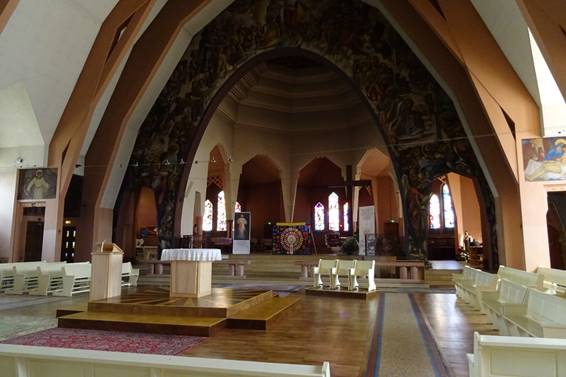 <![endif]>
<![if !vml]>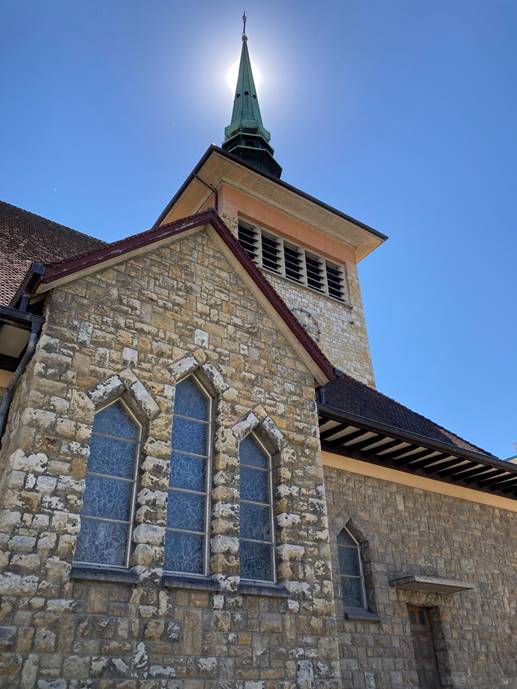 <![endif]>
photo's: A.W.A. Lukassen and A.A. Lukassen, july 2009, august 2023