Chapel of St. Adalbert, Bloemendaal <![if !vml]>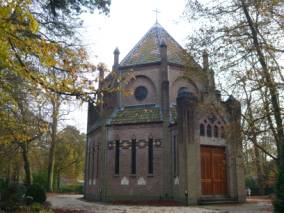 <![endif]>
On the cemetery of the town of Bloemendaal, near Haarlem, is hidden by the trees the little chapel of St. Adalbert. It is built to be used in ceremonies at the cemetery. The chapel has 8 sides, at the front a little entrance an at the rear side a little sacristy. On top of this sacristy is a little bell-tower. On the outside of the building is a belt, made of coloured stones, like in Noordhoek. The stained glass windows are made by Joep Nicolas.
The gate of the cemetery is also designed by Bellot and is restored around 2005 according to the original plans.
After being used as a Buddhist temple in the 1990s, the chapel is restored and in use again by the Roman Catholic community of Bloemendaal. 
<![if !vml]><![endif]>

<![if !vml]><![endif]>

<![if !vml]><![endif]>

<![if !vml]><![endif]>

<![if !vml]><![endif]>

<![if !vml]><![endif]>

<![if !vml]><![endif]>

<![if !vml]><![endif]>
Inside there are 8 pillars, made of brick. The ceiling is also made of brick. Bellot used different colours of brick and also different colours of cement to decorate this ceiling.
Above the altar is a light dome through which it was extra lighted. Unfortunately, the altar has disappeared over the years.
On the floor here also a tile pattern in various colours, with a dark colour in the middle of the chapel to mark the location of the coffin.
<![if !vml]><![endif]>

<![if !vml]><![endif]>

<![if !vml]><![endif]>

<![if !vml]><![endif]>

<![if !vml]><![endif]>

<![if !vml]><![endif]>

<![if !vml]><![endif]>
<![if !vml]>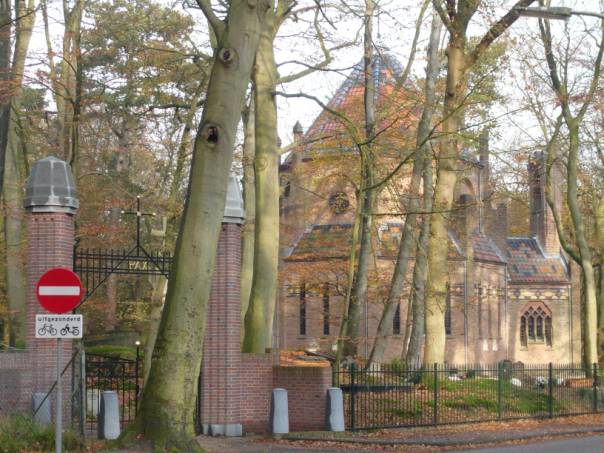 <![endif]>
Photo's: A.W.A. Lukassen and A.A. Lukassen, November 2011- April 2014